UPCOMING MEDITATION & MINDFULNESS CLASSES
IN CALGARY & ONLINE
Would you like to learn 'how' to calm your mind, worry less, be more focused, sleep better and enjoy life more ?
If so, then TRACEY'S classes & WORKSHOPS
may be JUST what you are looking for!
SCROLL DOWN TO THE BOTTOM OF THE PAGE TO LEARN MORE ABOUT TRACEY & HER MINDFULNESS & MEDITATION EXPERIENCE
ONLINE MINDFULNESS & MEDITATION CLASSES
LIVE ONLINE
MEDITATION & MINDFULNESS CLASSES
WITH TRACEY - STARTS FEBRUARY 12TH, 2020
(Note: the start date has been changed from Fall 2019)
Sign up on link below to know when registration is open and for more info.
IMAGINE..
• Feeling less stressed, more productive, calmer, happier & healthier.
• Attending LIVE meditation classes from the comfort of your home.
• Committing to a 6 week journey where you will learn a new meditation technique and a new mindfulness practice every week.
• Starting a daily meditation practice or getting back on track with a regular practice and how much more grounded, focused and centred you'd feel.
• Having access to a meditation teacher that you could ask any questions about your meditation or mindfulness practice.
• Having a group of like minded people there to support you on your meditation journey by doing a meditation challenge together.
If you like the sounds of the above, then I invite you to join my online meditation & mindfulness class…
LIVE ONLINE
MINDFULNESS, MEDITATION & MINDSET PROGRAM
6 WEEKS begins February 12th 2019
(Note: it has been rescheduled from Fall 2019)
YOU CAN JOIN THE CLASSES LIVE VIA ZOOM VIDEO PLATFORM WITH TRACEY OR ENJOY RECORDINGS OF THEM THAT YOU CAN WATCH OVER AND OVER AGAIN.
You will receive a video & audio recording of each class.
LIFETIME ACCESS TO THE RECORDINGS.
EACH SESSION INCLUDES A LIVE GUIDED MEDITATION PLUS A MINDFULNESS & POSITIVE MINDSET TEACHING + Q & A.
BONUS -
In addition to the 6 live classes
you will receive 3 bonus video & audio recordings:
1) how to create the habit of A daily meditation practice
2) MINDFUL tips to enhance focuS & performance at work & in sport
3) MINDFULNESS & lifestyle TIPS for better SLEEP
CLICK ON THE LINK BELOW TO BE THE FIRST TO KNOW WHEN REGISTRATION IS OPEN & FOR MORE DETAILS.
LIMITED SPACE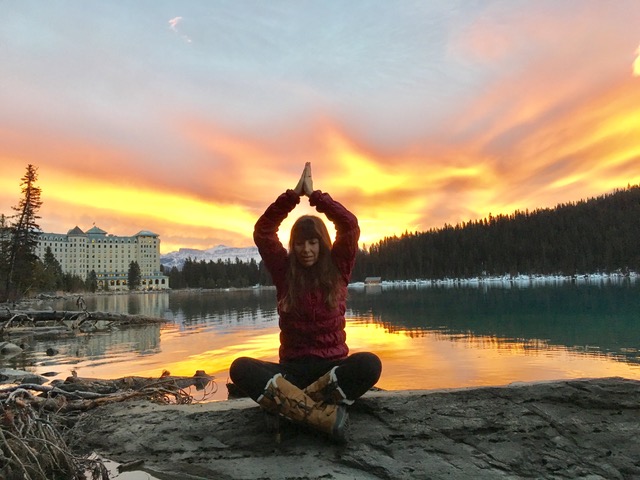 PRIVATE MINDFULNESS & MEDITATION SESSIONS WITH TRACEY
VIA THE PHONE, SKYPE, FACETIME OR IN PERSON
If you can't make it to Tracey's scheduled classes (see above) you may consider private mindfulness & meditation coaching or classes either at her Silver Springs NW, Calgary location or mindfulness coaching can be done via Skype, FaceTime or the phone.
TRACEY'S BACKGROUND as a MINDFULNESS & meditation teacher:
Since the late 90's Tracey Delfs has been traveling to Europe on a regular basis to study with world renowned Zen Master - Thich Nhat Hanh. He is often referred by the media as "The Father of Mindfulness" and Oprah has labled him "the calmest man in the World". and has and has been teaching mindfulness meditation for over 15 years. She has also travelled and studied with other great mindfulness teachers including: Jon Kabat-Zinn (see photo below), Pema Chodron and Sharan Salzberg. Tracey shares wisdom from all of these great teachers when she teaches her mindfulness & meditation classes.
Tracey uses mindfulness and meditation practices taught by Thich Nhat Hanh and her other mindfulness teachers, such as Pema Chodron when she teacher her classes.
Tracey has taught mindfulness and meditation to thousands of people since she began teaching meditation in 2000. She teaches regular mindfulness meditation classes in her community in Calgary at The Yoga Studio North, weekly workplace mindfulness classes at Shell Canada and Intact Insurance, as well as giving mindfulness presentations to a variety of different workplaces and at conferences. She use to work and travel with a the Canadian National Biathlon, Alpine and Freestyle Olympic teams teaching them meditation and yoga. Now that she has moved to Calgary and isn't travelling as much, she enjoys leading mindfulness & meditation retreats, doing private 1:1 meditation sessions and teaching classes within her community.